Upon arrival, your child will be assigned an ID number. One ID tag will be placed on your child's shirt and one will stay with you. Should we need parental assistance during service, your ID will be shown on the digital displays located under the sanctuary projection screens.
At HCC Kids your child will learn scripture, see Bible stories and receive instruction on how to apply these truths in their lives. This is done in an entertaining media-driven environment. The kids receive ministry from the volunteer instructors as well as ministering to and encouraging one another through prayer.
It's our desire to lead each child to a personal relationship with Jesus through knowing God's Word and to help each child feel a sense of self-worth and belonging to God's family. The children experience worship in the main sanctuary with their families and the entire church.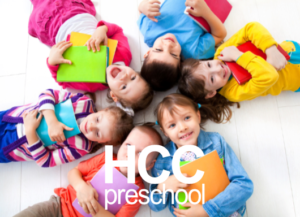 3 YEARS – KINDERGARTEN
Our HCC Preschoolers will learn that God made them, God loves them and that they can talk to Him anytime, anywhere.
Your preschooler will learn basic biblical fundamentals and take part in small games, crafts and other activities. Creative video lessons are also a part of their Sunday routine. They will enjoy engaging activities that will have them excited throughout the week and wanting to return

.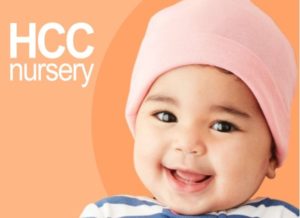 Our desire for each child in our nursery is for them to experience the love of God, and to feel safe in their environment.
Each volunteer in the HCC Nursery is a verified child care worker, with a complete background check.
Each Volunteer is a Verified Child Care Worker
with a complete background check.